What are you trying to say when you wear that rectangular piece of silk? As one of the few expressions of creativity and personality allowed to men, a tie has quiet a bit of responsibility. It can convey an emotion, a mood, a situation, and above all the elegance of the wearer, since his choice of a tie is an expression of his inner self. True markers of style continue to include neckwear in their wardrobe. Every man should have a strategic neckwear wardrobe. Neckwear is not part of a necessary uniform but more of a telling adjunct. A few well-chosen, quality ties - low-key and luxurious, rather than hyper-stylish, can make all the difference in the world. Simplicity of cut, quality construction and materials, and discretionary taste are the hallmarks of fine neckwear.
Since New York tie maker, Jesse Langsdorf, came up with essentially the method of making a modern tie 80 years ago, the only thing that has changed is why men wear ties. Ties are no longer viewed today as a sign of conformity or social imposition; ties these days are seen as simply ornamentation. Essentially purposeless and increasingly worn at one's own discretion, ties are now above all statements of the wearer's personality. These strips of silk, cotton or linen have become accessories laden with meaning.
A navy with white polka dots: a decidedly dressier but fun approach tells people that you're a really fun guy once your business suit comes off at night.
If your choice is a conservatively striped power tie, perhaps you want your professional, no-nonsense persona to shine through. It's not a coincidence that many politicians wear red-colored ties with light shirts and darker suits. Red is the power tie because red always comes back to strength and passion.
In the last decade, a pink tie most often but not always signals a "solidarity with women".
Consider blue as the all-purpose tie hue and also the safest color to wear. Blue ties are always a good investment and it has a calming effect. The tie that looks smart with almost any suit is also a pristine approach to a navy blazer. Not forgetting patterned blue ties that tend to give off a classic professional feel and can be worn in a global business environment without sending the wrong message.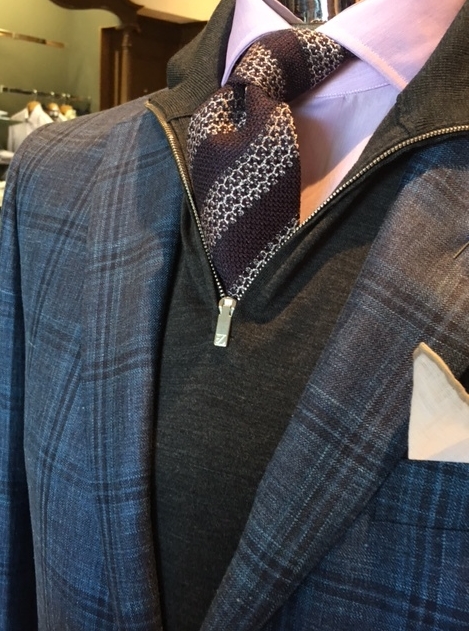 A silk foulard in a discreet geometric print is the classic tie to wear with a solid or striped business suit and striped dress shirt.
But perhaps a bow tie is more your speed, because you are a free-spirited nonconformist with an intellectual or creative bent. Or maybe not. That's the beauty of the tie. A man may be all of the different things his tie implies, or none of them. But you can't be a slob and wear a bow tie either. Bow tie wearers have to wear them like they mean it and perfecting the art of wearing bow ties says something about them. If he chooses right, his tie will say what he wants it to.
But even though your tie may be speaking for you, it is typically women who are the ventriloquists. Almost 60 percent of ties being purchased are by women; many men are products of the fit-to-be-tied fashion statement.
So, regardless of your necktie preference, consider ties as an essential equipment in your wardrobe simply because as Harry Anderson puts it, "Neckties are the modern man's desire to dress in art".
Author: Aruña Chong Quiroga
Ref: BBC Archives: The Psychology of Tie Colours by Alina Dizik; The Book of Ties by Francois Chaille; Tie Me Up, Tie Me Down by Jodi Balkan